vs
December 9, 2012
Score: 2 - 3
Match Report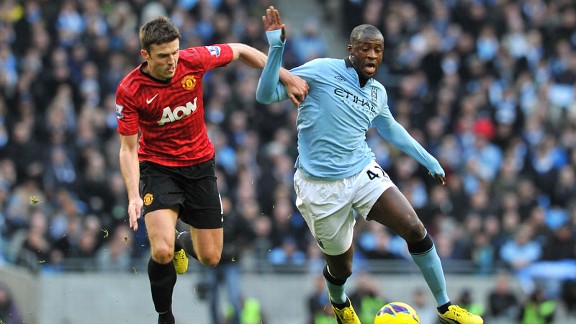 Manchester City vs Manchester United 9.12.2012
Manchester City vs Manchester United | 9 Disember 2012
***************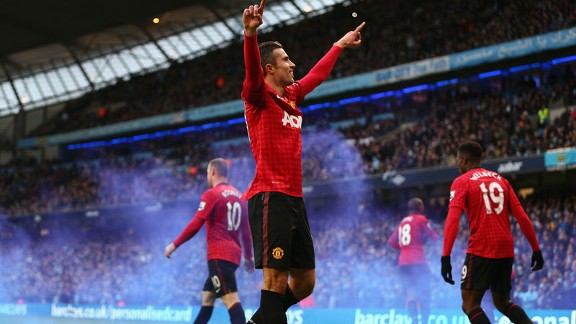 Red Devils deliver at the death
Wayne Rooney's first half brace was cancelled out by second half goals from Yaya Toure and Pablo Zabaleta as City fought hard to retain their unbeaten status in a fierce Manchester derby before Robin van Persie's deflected free-kick dramatically won it for United in added time. That victory puts United six points clear at the top of the Premier League.
Full Time: Manchester City 2-3 Manchester United
m-90: GOAL FOR UNITED. VAN PERSIE. Van Persie scores from the resulting free kick. It takes a deflection of Nasri's leg and flies in past Hart into the bottom corner. That must be the winner.
m-86: GOAL FOR CITY. ZABALETA. United can only clear the City corner as far as Zabaleta who hits first time from the edge of the area and finds the bottom corner.
m-60: GOAL FOR CITY. YAYA TOURE. City go up the other end and De Gea makes two great saves to deny Tevez and then Silva. The ball eventually falls to Yaya Toure who places his shot into the bottom corner. Game on.
m-28: GOAL FOR UNITED. ROONEY. Rooney does it again. Valencia plays in Rafael in space down the right who then picks out the striker in the middle of the box. Rooney hits it first time into the bottom corner. Hart no chance.
m-15: GOAL FOR UNITED. ROONEY. Against the run of play United score. Young comes forward and plays in Rooney in the box who beats Clichy and gets the shot away. He does not get much power on it but it rolls just inside the post and Hart can only look on.

Manchester City vs Manchester United 9.12.2012