vs
November 17, 2012
Score: 5 - 2
Match Report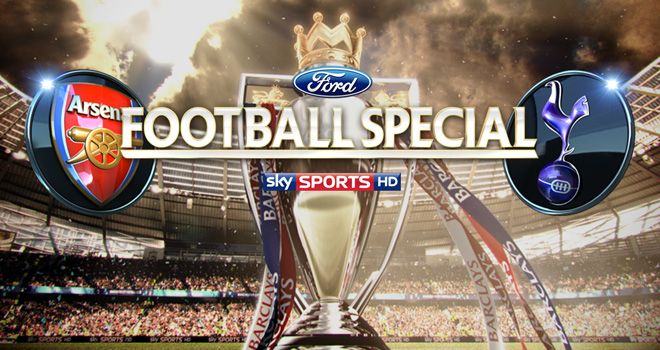 Arsenal vs Tottenham
Arsenal vs Tottenham [5-2] 17 November, 2012
************************
Full Time: Arsenal 5 Tottenham 2
m-90+1: GOAL THEO WALCOTT. Spurs caught at the back with Dawson left chasing shadows. The Ox breaks through, squares to Walcott who takes a touch and finds the bottom corner. 5-2
m-71: GOAL GARETH BALE. Sandro finds Bale with a good header, Arsenal defenders stand off the Welshman and he fires into the corner through the legs of Koscielny.
m-60: GOAL SANTI CAZORLA. Arsenal waited for the chance to pick off Spurs, Podolski with the square ball across the face of goal to an unmarked Cazorla who couldn't miss.
1st Half: Arsenal 3 Tottenham 1
m-47: And that's half-time. The Spurs players complain to Howard Webb as they head for the tunnel but there's very little they can argue about. Adebayor's red was correct.
m-45+1: GOAL OLIVIER GIROUD. Great work from Cazorla as he produces the cross for Giroud to guide home.
m-45: Lennon is booked for a foul on Vermaelen.
m-42: GOAL LUKAS PODOLSKI. Podolski will probably be credited with that rather than it going down as an own goal.
m-24: GOAL PER MERTESACKER. Great cross from Walcott on the right, standing it up for Mertesacker to rise highest and find the top corner with a header.
m-18: Opta Stat: Emmanuel Adebayor has been sent off four times in English football, three times by Howard Webb.
m-18: RED CARD – ADEBAYOR. Just as I thought at first view. Adebayor goes in with studs showing against Cazorla and contact is right on the ankle. Referee Webb gives himself time to think about the decision – helped by Bale and Wilshere having a little tete a tete – and rightly dismisses Adebayor.
m-10: GOAL EMMANUEL ADEBAYOR. Defoe leaves Mertesacker for dead, his shot is stopped by Szczesny but he can't hold it and Adebayor beats him to the loose ball for the tap-in.
************************
Andre Villas-Boas mahukan Tottenham Hotspur mengatasi Arsenal dan buat kali pertama sejak 1955 melayakkan diri ke Liga Juara-Juara.
Pengurus Spurs itu meramal persaingan merebut mahkota Liga Perdana England 2012-2013 akan menjadi rebutan tiga penjuru antara Manchester United, Manchester City dan Chelsea.
Ini membuka peluang dua lagi kelab bersaing merebut tempat keempat dalam Liga Perdana.
Pasukan pimpinan Arsene Wenger itu akan menerima kunjungan Spurs di Utara London hari ini dan hanya satu mata memisahkan antara dua kelab tersebut.
Keadaan ini hampir menyamai persaingan pada hujung musim lalu dengan Arsenal mengatasi lawannya itu bagi merebut tempat terakhir bagi melayakkan diri ke Liga Juara-Juara.
Ketika ditanya kemampuan Spurs mengatasi Arsenal bagi persaingan tersebut, Villas-Boas berkata: "Kami perlu melakukannya. Yang jelas, Manchester United, Manchester City dan Chelsea kelihatan akan bersaing sengit bagi merebut mahkota Liga.
"Kami hanya berazam mahu meletakkan diri lebih hampir kepada tempat keempat dan kami sedar ia tetap sukar.
"Mereka mempunyai sumber lain, tetapi kami hanya mahu memastikan jurang tersebut semakin tipis dan tidak mahu melebarkan lagi kedudukan tersebut.
"Untuk bersaing bagi tempat keempat, iaitu melayakkan diri bagi kejohanan Liga Juara-Juara, saya kira ia cukup sukar dan anda perlu ingat jumlah perlawanan yang perlu anda menangi."
Buat ketika ini, masih terdapat tiga lagi kelab di atas Spurs dan Arsenal, yang turut bersaing merebut tempat keempat. Pasukan-pasukan itu ialah Everton, West Bromwich Albion dan West Ham.
Mereka juga mampu menggugat Spurs dan Arsenal yang sedang melalui persembahan hambar.