vs
November 3, 2012
Score: 2 - 1
Match Report

Manchester United vs Arsenal EPL
Manchester United vs Arsenal | 3 November, 2012
****************
FULL TIME: Manchester United 2-1 Arsenal
m-94: GOAL FOR ARSENAL. CAZORLA. Cazorla bends in a delightful effort into the top corner leaving De Gea no chance. Too little too late though. And there goes the full-time whistle. It's all over.
m-90: Arteta goes into the book for a raised arm on Van Persie.
m-83: Arshavin booked for bringing down Rafael. He's only just come on.
m-81: Rooney booked for fouling Walcott.
m-72: Anderson goes into the book for a late tackle on Arteta.
m-70: Wilshere picks up his second yellow for a late challenge on Evra.
m-67: GOAL FOR UNITED. EVRA. A short corner is played out to Rooney, who proceeds to pick out Evra in the box with a fine cross. The Frenchman rises highest to head home.
m-45: Penalty for United. Cazorla handballs as Young tries to whip a ball in. Rooney steps up… And Rooney misses. He drags it to the left and it clips the post and bounces wide.
m-37: Yellow for Cleverley as he goes in late on Cazorla.
m-29: Young goes into the book for a late tackle on Sagna
m-14: Wilshere is booked for a late challenge on Cleverley.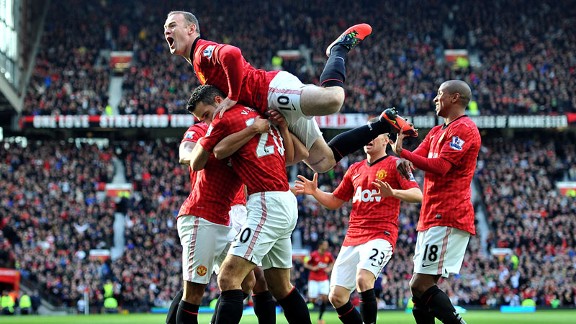 m-3: GOAL FOR MAN UNITED. VAN PERSIE. Would you beleive it? Van Persie scores against his old club. Rafael crosses a tame delviery into the box but Vermaelen fails to deal with it and can only knock it into the path of the Dutch man who hits it from the edge of the area right into the bottom corner. Mannone no chance.
****************
Wenger hormati Van Persie
PENGURUS Arsenal, Arsene Wenger meminta peminat The Gunners agar tidak mencela bekas penyerang The Gunners, Robin van Persie (RVP) menjelang perlawanan Arsenal dan Manchester United di Old Trafford, malam ini.
RVP dijangka berada dalam kesebelasan utama United sejak meninggalkan Arsenal musim panas ini.
"Saya harap tiada insiden memalukan berlaku dalam kalangan peminat. Kita perlu ada sikap menghormati orang lain. Kami cukup memandang serius perkara ini dan tidak berkompromi berkaitan gejala kurang sihat ini.
"Saya tidak terkejut RVP yang berjaya mencipta kejayaan untuk United. Dia memang berbakat dan memiliki penyudah berbisa. Jadi, kami perlu hati-hati dan mengawasi kelibatnya nanti," katanya.
Menurut Wenger, dia enggan mengingati duka dibelasah 8-2 oleh United pada pertemuan Liga Perdana Inggeris musim lalu dan percaya perkara sedemikian tidak berulang kembali malam ini.
****************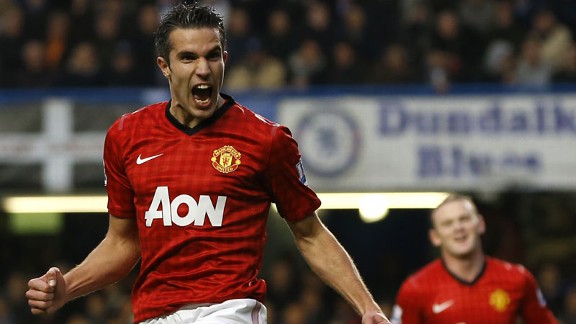 Ferguson: Serangan kami sangat hebat
Pengurus Manchester United, Sir Alex Ferguson merasakan beliau mempunyai serangan yang sungguh hebat selepas ketibaan Robin van Persie di Old Trafford.
Van Persie, yang akan menghadapi bekas pasukannya Arsenal buat kali pertama hujung minggu ini selepas berpindah ke United, telah memulakan kerjaya Old Trafford beliau dengan cemerlang.
Pemain berusia 29 tahun itu telah menjaringkan sembilan gol di 12 penampilan dan juga telah menunjukkan persefahaman yang baik bersama para penyerang Wayne Rooney, Javier Hernandez dan Danny Welbeck.
Dan Fergie merasakan empat penyerang itu boleh dibandingkan dengan bekas penyarang-penyerang United di musim 1999-2000 – Teddy Sheringham, Andy Cole, Dwight Yorke dan Ole Gunnar Solskjaer – yang telah menjaringkan 97 gol.
Ferguson berkata: "Itu adalah benteng serangan yang sangat hebat. Setiap kali mereka (penyerang-penyerang 1999-2000) bermain, mereka memberikan banyak sumbangan kepada pasukan.
"Buat masa ini dengan pasukan sekarang, dengan penyerang-penyerang yang kami mempunyai, saya boleh melihat persamaan dari segi ancaman di bahagian serangan.
"Saya tidak rasa kami boleh menjaringkan lebih daripada 90 gol tetapi kami sangat mengancam di bahagian serangan."