vs
October 28, 2012
Score: 2 - 3
Match Report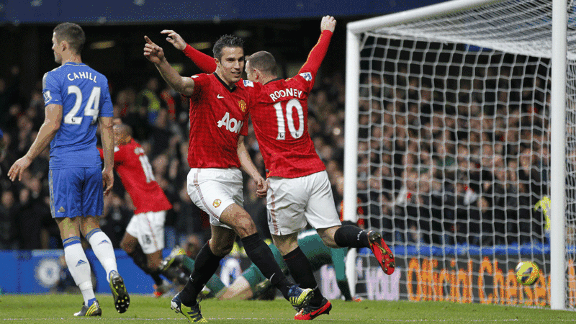 Chelsea vs Manchester United | 28 Oktober 2012
****************
Full Time: Chelsea 2-3 Manchester United
m-90: An important win for United as they reduce Chelsea's lead to just one point and move up to second, overtaking Manchester City on goal difference. The two sides will meet at Stamford Bridge again on Wednesday in the Capital One Cup. Let's hope for more of the same. Minus Ivanovic and Torres, of course. Good night.
m-90: An action-packed game full of controversy. Chelsea did brilliantly to pull the scores level after United's early double. However, just as Chelsea were looking like finding a winner they had two men sent off before Hernandez scored the winner, while looking suspiciously offside. The game turned completely on its head.
m-75: GOL FOR UNITED. HERNANDEZ. Cech pulls off a great save to turn Van Persie's strike off the post. But Rafael is there to send the rebound back across goal where the Mexican is waiting to tap into the back of the net.
m-70: Both benches are kicking off. Great stuff. Chelsea down to nine men. Is this United's game now? Amazingly Chelsea are still doing the attacking.
m-68: Red card for Torres. He receives his second yellow for a dive, following a two-footed challenge from Evans.
m-62: Ivanovic receives his marching orders for bringing down Ashley Young as the last man. The winger was clean through on goal. Rooney sends the resultant free-kick over the bar.
m-53: GOAL FOR CHELSEA. RAMIRES. Chelsea looked as though they had wasted a chance after Mata fails to control a ball played into him but he makes up for it and fires the ball back across goal. Oscar picks it up on the other side of the box and sends it back in where Ramires is waiting to head home. Great header.
m-45: Another delightful first half. United got off to a fantastic start with two quick goals but Chelsea grew into the game as the half went on. They were rightly rewarded for their efforts with a late goal from Mata, setting up what promises to be another thrilling 45 minutes of football.
m-45: Torres goes into the book with a very bad foul on Cleverley.
m-44: GOAL FOR CHELSEA. JUAN MATA FREE KICK. Mata curls the resultant free-kick right into the corner of the goal. De Gea no chance.
m-43: Rooney goes into the book for a cynical challenge on Hazard. Free-kick in a dangerous position now for Chelsea.
m-12: GOAL FOR UNITED. VAN PERSIE. A delightful move from United. Rafael plays the ball up the line to Valenica who does what he does best and sends in a cross straight to Van Persie. The striker smashes it past Cech. Keeper had no chance.
m-4: GOAL FOR UNITED. DAVID LUIZ OWN GOAL. A lovely move from United. Young plays in Rooney down the right who picks out Van Persie in the middle with the pass. The Dutchman rifles in an effort that hits the post but bounces off Luiz and into the back of the net.
**************
PERTEMUAN antara Manchester United dengan Chelsea dalam persaingan Liga Perdana Inggeris (EPL) pada perlawanan kesembilan akan menjadi penentuan kepada kedua-dua kelab itu dalam saingan merebut tahkta.
Pertemuan dua gergasi itu akan berlangsung pada jam 12 tengah malam Isnin ini.
Pertembungan buat julung kali pada musim ini, di Stadium Stamford Bridge, dijangka menarik minat orang ramai.
Pasukan Chelsea di bawah pengurusan Roberto di Matteo nyata akan menampilkan aksi hebat bagi mengukuhkan kedudukannya di tangga teratas, MU pula pastinya akan memberi saingan sengit untuk mencari tiga mata penuh dan berharap dapat memintas The Blues selaku pendahulu musim ini.
Berdasarkan prestasi semasa Chelsea dalam lapan perlawanan setakat ini, rasanya tiada halangan bagi anak buah Roberto untuk meraih tiga mata bagi menjarakkan mata yang kini mengumpul 22 mata.
Bagaimanapun, MU yang berada di kedudukan kedua pastinya turun dengan berbekalkan semangat yang tinggi bagi mencatat kemenangan ketujuh musim ini.
Persoalannya, mampukah anak buah Sir Alex Ferguson menyekat kemaraan Chelsea selaku pendahulu liga dan merampas kembali tahkta ataupun sebaliknya?
Dengan itu, MU tidak boleh lagi terlepas daripada meraih tiga mata sekiranya tidak mahu berputih mata dalam mencari status pendahulu liga.
Jadual Perlawanan Kesembilan:
Sabtu:
Aston Villa mln Norwich City 7.45 malam
Arsenal mln Queens Park Rangers 10 malam
Reading mln Fulham 10 malam
Stoke City mln Sunderland 10 malam
Wigan Athletic mln West Ham United 10 malam
Ahad:
Manchester City mln Swansea City 12.30 malam
Everton mln Liverpool 9.30 malam
Newcastle United mln West Bromwich 11 malam
Southampton mln Tottenham Hotspur 11 malam
Chelsea mln Manchester United 12 tgh malam