vs
October 28, 2012
Score: 2 - 2
Match Report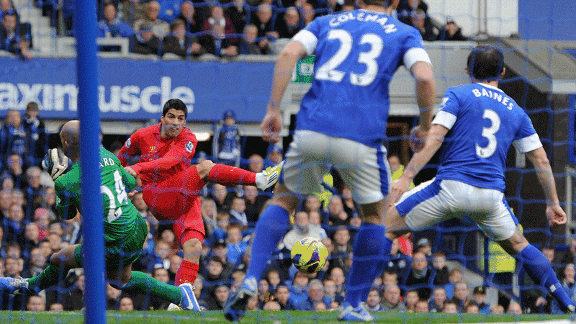 Everton vs Liverpool | 28 October, 2012
***********
Full Time: Everton 2-2 Liverpool
m-90: A thrilling first half is followed by a slightly more subdued second. Chances for both sides to win but they lacked the cutting edge they showed in the first 45. Liverpool will feel like they should be walking away with all three points though after Suarez's injury-time goal was disallowed. A draw seems about right.
m-90: Osman concedes a free-kick. Another chance for Gerrard here… And Suarez thought he had won it there. But it's disallowed. Gerrard sends in the free-kick to Coates at the far post. The centre back heads it across goal to Suarez who converts. The Liverpool players' celebrations were cut short much to the relief of the Everton fans. Suarez looked onside there though. The away side will feel hard done by. And there goes the full-time whistle. It's all over at Goodison.
m-86: Coleman picks up a yellow for a late challenge on Sterling.
m-71: Suarez sees yellow for a clumsy tackle on Distin.
m-69: Agger receives a yellow for handling the ball. He was pushed by Fellaini first though.
m-57: Jagielka receives a yellow for bringing down Sterling. Cynical.
1st Half: Everton 2 Liverpool 2
m-45: Three minutes of added time to be played. Neville picks up a yellow for diving. Oh the irony.
m-35: GOAL FOR EVERTON. Steven Naismith. Fellaini does well to turn on a six pence inside the Liverpool box before firing a dangerous ball right across goal. Naismith is there to turn the ball in after making a great run. Jelavic was waiting should he have failed to make any contact.
m-29: Sterling picks up a yellow for a mistimed challenge on Baines.
m-22: GOAL FOR EVERTON. Leon Osman. Great strike from Osman as Jones fails to get enough on his punch from an Everton corner. It lands at the feet of Osman who half-volleys it perfectly into the bottom corner from the edge of the box.
m-20: GOAL FOR LIVERPOOL. Suarez. A fabulous ball in from Gerrard from the resultant free-kick eludes the Everton defence but Suarez is there unmarked to get his head on the ball and find the bottom corner.
m-19: Osman picks up a yellow for catching the heels of Sterling. It looked accidental.
m-14: Goal! Baines own goal. Liverpool work the ball well before Enrique finds himself in space down the left to deliver a dangerous ball across the face of goal. Sterling goes down as he attempts to reach the cross but Suarez is there at the far post to drill the ball past the helpless Howard, via a major deflection off Baines.
*************
Rodgers tak sabar jumpa Everton
Pengurus Liverpool, Brendan Rodgers mengakui beliau tidak sabar mahu merasai pengalaman sulung pertembungan jiran setempat Merseyside apabila pasukannya berdepan musuh tradisi, Everton, malam ini.
Selepas bertahun-tahun Liverpool unggul sebagai kuasa besar di Merseyside, giliran Everton tampil pada perlawanan di Goodison Park sebagai pilihan selepas mereka berada enam mata di depan jiran mereka dalam Liga Perdana dan ia pasti menghangatkan pertembungan yang sering berlangsung sengit itu.
Pertemuan kompetitif ke-219 itu mungkin yang pertama buat Rodgers, namun kehangatan perlawanan jiran tetangga itu memang diketahui bekas pengurus Swansea itu.
Lantas, Rodgers meminta pemainnya supaya mengelakkan pertelagahan dan merayu pengadil Andre Marriner supaya lebih adil.
"Di Liverpool pertembungan jiran setempat ini amat bermakna. Bagi penduduk bandar raya ini, bola sepak adalah satu gaya hidup. Bagi kebanyakan bandar raya lain, ia hanyalah aktiviti masa lapang," kata Rodgers.
"Di Liverpool, sejarah dan apa yang dicapai pada masa lampau memberikan kami motivasi untuk terus meningkat.
"Everton bermula dengan bagus. Saya sudah dengar ada cakap-cakap Everton yakin untuk menamatkan kempen dalam kelompok empat teratas.
"Saya sudah menyaksikan pertembungan setempat Merseyside selama ini dan memang perlawanan ini bakal genting serta sengit."